Having a reception and the chairs are hideous? Are they just the absolute ugliest things you've ever seen?  Don't have money for those fancy schmancy chair covers?  Well, guess what… YOU DON'T NEED EM!!!
I have a super sweet solution…. DIY PILLOWCASE CHAIR COVERS!!!
That's right, I said pillowcase!
Chair covers can cost a few bucks per chair… Who has that kind of money?  Pillowcases are cha-eep! Just browse the web, you'll find some affordable options.   Now, they may not be the best quality, but you don't need them to be.  You just need to hide those gross chairs.  ANYTHING is better than those eyesores, right?
And look how adorable a DIY pillowcase chair cover could be…..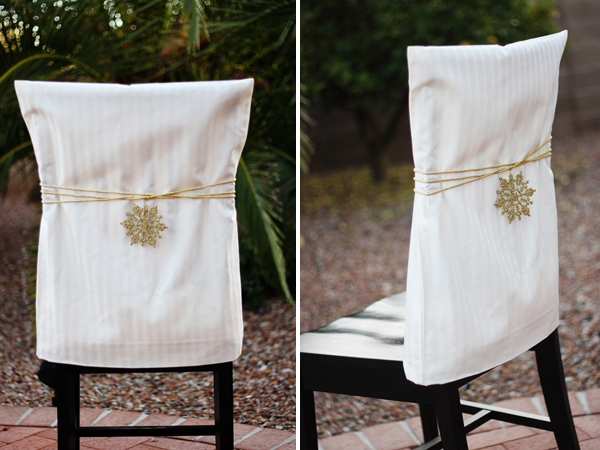 via Kelly Hicks Design
Loving how crisp and clean this look is.  A little bit of twine and an ornamental piece really dress this chair up beautifully!
via Raised in Cotton Lifestyle
How charming!  The floral pattern is adorable and aids to the garden theme.  Notice how this pillowcase is folded in half to fit the chair. PERFECT solution for a shorter chair back!
These pillowcases lighten up the table and give an airy feel.  Suits the theme fabulously.  I adore the alternating of white and patterned case.  SIMPLE yet lovely.
OKAY, before you go ordering pillowcases, I would double-check the size of the chair vs the pillowcase.  Make sure it'll work before you place your order.  AND, if you successfully transform your party space with a simple pillowcase chair cover, send us a picture.  We're always looking for success stories to share!