What's a wedding without some hugs and kisses?  I love a little XO detail so decided it was time for some EX OH inspo!  
These XO treats are too cute to eat!
found at The Ritzy Bee Blog 
Hug and Kiss cupcakes would be perfect for a wedding or shower.  Guests would eat these right up.  Adorable!
found at Martha Stewart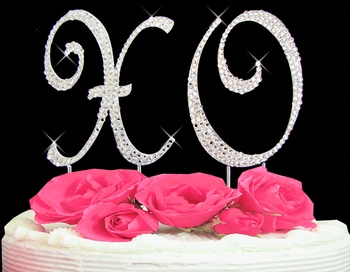 You could top your cake with some Xs and Os…
found at Just Jen
… or put them straight on the cake.
found at The Bridal Blog
I love the Xs & Os hanging over the table.  Aren't they charming? 
found at Eat Drink & Be Married
X & O photo props!!!  Super cute for an engagement session, especially if you are having some XO accents at the wedding.
found at Underfunded Heiress
Isn't this hug & kiss confetti a cute touch?  You could make your own in colors that coordinate with your wedding.
found at Lifestyle Crafts
Oh, I will definitely be making some of these XO gift tags.  A sweet touch for gifts given for weddings, showers, or anniversaries.
found at Hostess With the Mostess
My earring collection is definitely missing these! 
found at Weddingbee
If anything… an XO ring shot is just lovely!
found at Flickr