Wether you're having a wedding, throwing a party or  just decorating for the holidays…. nothing makes a statement like a beautiful backdrop.  They can be extremely inexpensive and fantastically fun. 
This is what I'm talking about….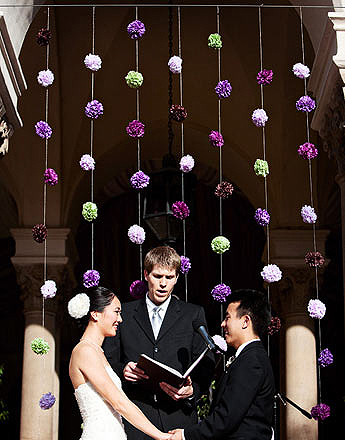 This paper pom backdrop is super cool and sooo easy to recreate.  via Lucy Dylan Weddings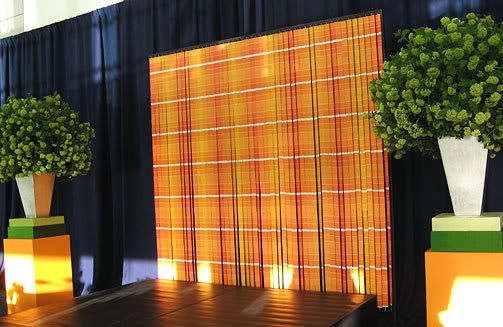 Remember when I said backdrops can be inexpensive??  Well, what's cheaper than free paint samples.  Yup, that's right… this awesomeness is made of paint samples.  via The Wedding Lady
This fabric backdrop is again…. soooo simple. You could make any color, any pattern, any size. (Don't have fabric… how 'bout a shower curtain?) I like the two strands of bunting too.  Gives it a little extra spunk!  via A Subtle Revelry
Are these streamers?  Why YES, yes they are.  With a little weaving action you could totally make this.  Visit Catch My Party for this streamer backdrop tutorial.
UHM, yeh… I LOVE THIS paper rosette backdrop.  You??  via Be Different Act Normal
This ribbon backdrop is whimsical and lovely.  If you're on a budget try paper streamers. via Sweet Designs
Doilies?? YES!!!  This would make a romantical wedding backdrop, dontcha think??  via Sarah Hearts
Some people's craftiness amazes me.  Seriously…do you know what these are?? GUESS….
Did you guess plastic water bottles??  AH MAY ZING!  Blows my mind!  They are so subtle, eco-friendly and lovely.    Oooo, wouldn't they make a gorgeous winter wedding backdrop…. almost ice like!  via It's a Jaime Thing
This ball garland is a cool backdrop idea!  I bet it looks just as great hung vertically! via District Weddings
I'm not exactly sure how this fantastic white backdrop was made but it looks like lots of sheer  fabrics and I think I see coffee filters!  The texture adds drama and is what I love most about this one!  via Bride to Bridesmaid
A sweet rustic idea… door backdrop.  But don't forget the bunting!!  via DIY Chatroom
Another cute idea.  This wooden backdrop looks great the way it is but would also be lovely painted!  Love the wild floral accents on either side too.  via Todd Pellowe Weddings
Ah DOOR able ceremony backdrop.  via All Things Wedding
Are these colorful streamers not an awesome backdrop idea??  Soooo FUN!  via BridalHood
Feather boas?  Why, I wouldn't have thought of that.  But I love it!  Fluffy, fun and fabulous!!  via Celebrations at Home
Circles are easy peazey.  A totally DIYable  backdrop! via Sweet-Lee Events
This mirror and light backdrop is stunning!  via Pinterest
These are only a few backdrop ideas.  I hope they got the wheels-a-turnin'.  If you take my advice and are awesome enough to make you're own backdrop Pah Lees send it on over.  I would love to share it here in Libby Land!